Shortlisting for the ESG awards
ESG Award
Best ESG Campaign to Promote and Encourage Climate Action Shortlisting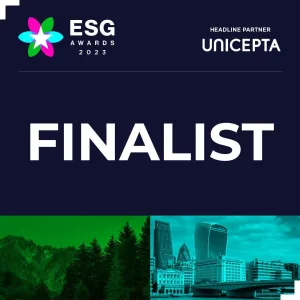 We are thrilled to announce our shortlisting in this year's ESG Awards for our campaign Putting the Value into Zero. It is a campaign that promotes the benefits of our Green Audit service, which was launched early 2023.
It never grows old, it never tires. When we receive external recognition for a job well done, we can't help but feel invigorated to do more. Motivated to support the sustainability cause further.
It's a cause that has been close to all our hearts, here at Commercial, since 2006. And it has even led to us achieving 61% real-term reduction in carbon emissions and a 91% reduction in carbon intensity per £1million of revenue.
About the Green Audit
Aligned to SDG 7 of the UN's Sustainable Development Goals (SDGs), our Green Audit promises to help cut electricity, gas and water waste and lower energy bills.
Using our expertise and investment in new technology, we also provide voltage optimisation surveys that guarantee an 8-10% saving on a business' energy bills.
Through smart software, we can also rationalise deliveries to lower the carbon footprint of receiving goods, while using our knowledge to recycle even the most impossible of waste streams.
All that, coupled with planning, building and utilising solar and wind power helps our customers create significant reductions to their carbon footprint.
Reducing Scope 2 and 3 emissions is a huge challenge facing all business. As a result, we use our experience to help others as they plot their own course to achieving carbon net zero.
Good luck and see you on Wednesday 8 November 2023
We'd like to wish everyone shortlisted for the awards the best of luck. And we look forward to seeing you, virtually, at the awards ceremony on Wednesday 8 November 2023.
In the meantime, if you would like to know more about our Green Audit, please see our brochure below. Alternatively, complete the contact form and one of our team will be in touch.