Buildings and facilities
for the future
Systems, signage, and services to supercharge your workspaces and premises.
Better physical experiences
For better businesses
The way your buildings work makes a big difference to the way your staff, clients, and customers act.
We work with innovative and forward-thinking providers of facilities services and technologies to create outstanding and memorable experiences for all of your visitors. Having worked so closely with these partners for decades, we get unique access to new products and services before anybody else does.
And by working so closely with you too, we can learn more about your business and how you use facilities within it – to feed your experiences back to the providers and help improve the products and services they deliver.
Explore a diverse range of innovative products and services designed to revolutionise your work environment
By embracing the latest advancements in technology and leveraging innovative solutions tailored to your specific needs, you can unlock untapped potential within your business premises. Imagine seamless connectivity, streamlined operations, enhanced safety, and unparalleled productivity—all contributing to a thriving and future-proof organisation.

Top-down view of the market
We take a whole market view as an independent reseller , which means we can take advantage of new innovations as and when they come out – to build custom solutions that utilise the best facilities products, wherever they come from.

Supercharging your business premises with innovative products and services
In today's rapidly evolving business landscape, it is crucial to stay ahead of the curve and leverage cutting-edge solutions that can propel your operations to new heights.

Sustainability before all
We'll never build, design, or recommend something to you that doesn't help to improve your journey to becoming a more sustainable business. From digital solutions that make your buildings more efficient, to techniques that optimise the way you use resources, ESG will always be front of mind.




Audio Visual Systems
Collaboration in any location
From conference calling to full video suites, AV plays an integral role in every modern business. By creating experiences that drive communication and collaboration, you can bring your teams and your clients closer together, no matter where they are in the world.
Using decades of experience and long-standing relationships with the industry's best providers, every AV system we build is completely customised to the needs of the business and building we're servicing.
MANAGEMENT SYSTEMS
Take control of your highly connected workplace
Your buildings have never been smarter, more connected, or more advanced – but that also means they've never been more complex. Utilising the right Building Management System (BMS) is an essential step to getting the most out of them, and making sure they provide return on investment.
Everything you need in one single interface
Manage your costs, improve your sustainability, monitor system performance, and generate reports to look for improvements – by using our customised BMS in your business.


Click to uncover Commercial's expert advice and unleash your business potential.
Request a call
Contact us today
Don't just take
our word for it…
Commercial deliver. We are fortunate to work with some amazing partners. Here are some examples of great things we hear every day.
The Tesco procurement team have been delighted with the way Commercial share our desire to entrench sustainability into our supply chain – we really are kindred spirits. Our ethical and sustainability policies are of paramount importance to our reputation and the Commercial team reviewed and approved all products in a short timeframe. Commercial are already committed to the ETI base code and are working on achieving EcoVadis accreditation for all suppliers on the Tesco account.
Keeping your clients and colleagues in the know and up to date


Corporate Communications Revolution
Captivate, Engage, and Influence with Dynamic Visual Communications
Drive real-time communication across sites, by utilising digital signage to showcase important information dynamically. Spread messages to different teams and keep everybody current, using the latest hardware and software, and  invigorate your corporate communications with intelligent analytics dashboards.
Why work with Commercial?
We've been supporting clients to create and manage their workplace experiences for decades, build sustainability into their designs, and take advantage of the latest technologies. By working closely with the best providers in the market and building customised solutions, we deliver value across your entire workplace needs.
Working in tandem with you
The first thing we'll do is get to know your business, your teams, and exactly what you want to achieve. By embedding ourselves alongside your workforce, we'll make your objectives our own and be able to design solutions that speak specifically to your ambitions.
Working with multiple experts
Commercial is home to a wealth of technicians, engineers, and specialists. By working together on every project, they approach your challenge from every angle and ensure that all of our recommendations are perfectly suited for your specific needs.
Working with sustainability in mind
Whether it's energy efficient digital signage or building management systems to control your air quality, we design everything with its environmental impact in mind and make sure that any solution we provide you with contributes to your sustainability goals.
Digital Vending
Intuitive access to items and smart management of vending solutions
FROM ON-SITE REFRESHMENTS TO KEY OFFICE SUPPLIES
Smarter vending means smarter working. The more convenient and available key resources are, the more productive your workforce can be. And the more automation and analytics you have to help manage and monitor your vending, the more intelligent your decision making, inventory control, and budgeting can be. Our digital vending solutions are fully customised to your business and tailored to suit your working practices and operational needs.
IOT & SENSORY SYSTEMS
A smarter, more comfortable, more efficient work environment
Take advantage of the power of connectivity and automation, to relieve your workforce of repetitive manual tasks and create an environment that works around their needs. From automatically adjusted lighting and temperature to smart wearables that act as digital assistants for your teams, we can equip your business and your people with the technology to make life  more efficient.
Climate control that auto-adjusts the ambient temperature
Live occupancy data on shared offices and meeting rooms
Trackers and notifications for cleaning and maintenance crews
Keyless entry and smart access to sensitive areas
Smart coffee and vending machines.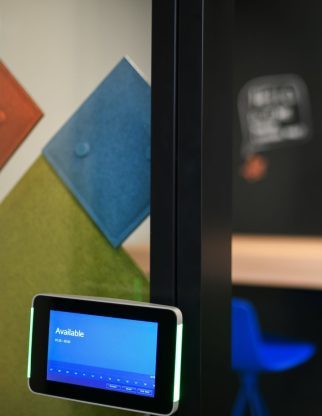 Don't just take
our word for it…
Commercial deliver. We are fortunate to work with some amazing partners. Here are some examples of great things we hear every day.
The innovative approach of the Commercial team enabled Crew Clothing to revamp our in-store environment, delivering a modern and fresh appearance to our point-of-sale (POS) advertising. Their smart technologies team installed a 65-inch digital display, connected to a content management system that we oversee for daily updates, providing us with fresh content regularly. This has empowered our in-store teams with the flexibility to adjust sales campaigns and advertising to various situations, resulting in a completely transformed in-store experience for our valued customers.
The Tesco procurement team have been delighted with the way Commercial share our desire to entrench sustainability into our supply chain – we really are kindred spirits. Our ethical and sustainability policies are of paramount importance to our reputation and the Commercial team reviewed and approved all products in a short timeframe. Commercial are already committed to the ETI base code and are working on achieving EcoVadis accreditation for all suppliers on the Tesco account.
The new Walsall Housing Group office is a fantastic, fresh and modern workplace thanks to the wonderful work of the Commercial interiors team. They created a steering group to work alongside us to understand our demands and held regular meetings during the design process to keep us informed of the progress. Our desire was for a more collaborative space, with meeting booths and one-to-one seating, rather than traditional desks – and they delivered a fantastic final fit-out over the full four-floor building.
Each year, Commercial supplies accessory packs to graduate trainees at a leading accountancy firm, which are then picked, packed, and delivered to their home addresses by the Commercial Foundation. This not only guarantees that every new employee has the necessary equipment to be productive from their first day but also allows their IT team to focus on other responsibilities. Collaborating with the Commercial Foundation generates substantial social value returns on investment for the firm and contributes to improving the lives of the Foundation's volunteers.
Wollens have enjoyed a long-standing and fruitful partnership with Commercial because they are always introducing innovations and improvements to our IT environment. As the threat of cyber-attacks increases it was vital that we strengthened our capabilities for dealing with a ransomware attack with a cloud-based backup solution. Our solution means data cannot be altered or deleted, giving us a crucial way of recovering data to minimise any potential downtime and financial losses
Working with Commercial for our branded materials has proved to be effective and collaborative. The team is efficient and they listen to requests for improvements. Commercial has made branded goods simple.
As E-commerce in retail continues to grow, Commercial's stock-management and fulfilment expertise has allowed a leading UK retailer to free huge amounts of warehouse space. Commercial took on the stocking of our employee uniform, transferring to a new supplier with the management of the supply being consolidated into their existing supply accounts. Not only did this free vital space in their distribution centre, the consolidated supply of all GNFR delivered significant delivery cost savings.
At JoJo Maman Bébé we are happy to work with the Commercial Foundation and support inspiring work they do to help disadvantaged young adults. Like us, the Foundation are a B Corp certified organisation that is proven to put purpose ahead of profits. We have enjoyed working with their volunteers to help with a mug-making activity. We are now working alongside them to create an introduction gift for our new employees, these include printed mugs, pens and notebooks.
Wayfinding
Using advanced technology and traditional techniques to improve public spaces
Services that create positive visitor experiences.
Whether your visitors are customers, clients, or colleagues – making it easy for them to navigate your premises is an important step to creating a positive and comfortable experience. By using signage, systems, colours, and content – our wayfinding systems help direct people to where they need to be, driving sales, wellbeing, and productivity.
• Static directional signage, utilising colour psychology principles
• Digital signage with dynamically changing content
• Interactive touch screen technology for self-service wayfinding
• 3D wayfinding and personal route planning
• Central analytics and reporting dashboard to monitor performance


We'll visit your offices, meet your people, and design you a fully customised workspace booking solution.
Workspace Booking
In a new world of hybrid and remote working, a new way of managing your workspaces is required
Even with fewer people in the office, finding spaces to meet and collaborate has become even more challenging. As teams come together more infrequently, they're looking for spaces to meet, collaborate, and co-work. Give them an easy way to reserve desks and rooms and plan ahead for productivity, with smart workspace booking technology.
 
Central booking system with intuitive user interface
Touchscreen devices outside each workspace
Smart automated control of climate, lighting, and power
Analytics to measure and monitor usage
improvement in workspace utilisation rates when implementing workplace booking software along with making better use of available resources, reducing wasted space and increasing overall efficiency.
of employees reported feeling more content with their work environment when they have the flexibility to reserve spaces according to their preferences and needs. This leads to higher productivity, reduced stress, and improved work-life balance for employees.
Don't miss out – click here to tap into Commercial's wealth of expertise.
Request a call
Contact us today
VIEW MORE OUR SERVICES
Discover other areas of interest
Beyond software support, our team of specialists is dedicated to unlocking your business's full potential, optimising efficiency, and fostering a smarter and safer business environment.

Managed Print Services
Streamline your print infrastructure and optimise costs with our comprehensive managed print services. From device management to supply replenishment, we ensure seamless printing operations for your business.

Information Management
Unlock the full potential of your data with our information management services. From data governance to document archiving, we help you organise, protect, and leverage your information effectively.

Process Automation
Unlock your business processes with our process automation services. From workflow optimisation to robotic process automation, we help you automate tasks, increase efficiency, and drive productivity.
At Commercial, customer safety and data security are paramount.
That's why we utilise one-time passwords (OTP) to verify email addresses and ensure a secure user experience.
When communicating with us via our website,  you'll receive a unique OTP via email, which acts as a temporary code to confirm your identity.
This additional layer of authentication safeguards against unauthorised access and protects your personal information from potential threats. By implementing OTP verification, we maintain the highest standards of confidentiality, providing our valued customers with peace of mind and a safe environment for their online interactions.
Your trust is our priority, and we are committed to upholding the utmost security measures to protect your data at every step.
Send our Buildings and Facilities team a message