Combining comfort and technology to support healthy home-working
Bringing together worker wellbeing and the right technology to create home working environments that make employees feel valued and that promote productivity.
The right light
37% of UK workers prefer to work in a space with natural light
A different approach
42% of UK employers say the pandemic has made them reconsider their approach to remote working, according to a 2020 survey by the Office for National Statistics
The right tech
64% of UK workers prefer to have a good quality internet connection when working from home
Increase productivity
61% of UK workers prefer to have a comfortable chair when working from home
Cultivating workplace harmony,
no matter the location.
Working from home as part of a hybrid model is here to stay. This shift, while offering undoubted benefits to employees, must also be managed to ensure the lines between work and home life do not become too blurred.
Our expert teams will assess each team member's individual home working needs. Whether that is considering the right furniture or making sure technology is available to ensure teams feel connected when working remotely.
By marrying worker comfort with the appropriate technology set-up in a home environment, our clients will get the most from their teams no matter where they are based.

Sustainable sources
A carbon footprint calculator makes sure all furniture comes from the most sustainable sources. We are able to track from the selection of raw material through to the manufacturing process and then to the specific client's site installation.
Our experts will help your home-working teams perform at their best
Providing expert workstation analysis in your teams' homes will ensure your people feel supported and valued. The health and wellbeing of your employees is paramount, whether working in the office or remotely

An holistic view
Our approach is so much more than making sure people have the right chair when working at home. Whether that's encouraging leaders to monitor working patterns to ensure breaks are being taken to advising on the appropriate cyber security measures.
addressing your challenges
Collaboration is the key to a successful partnership.
Home working is now a valued and much utilised option as employees search for more flexibility and a better work/life balance. Making sure your teams have access to the same equipment and technology in the office is easy. Replicating this in a home environment, while no less important, is less so.
We are passionate about working with clients to make sure that their teams are productive, efficient, inspired, and comfortable, no matter where they are working.
There are often some common threads that come up when clients talk to us about challenges they face. Here are five of them.
Employees do not have the necessary IT connectivity and equipment.
Individual team assessments in their homes will identify what equipment is required as well as any IT upgrades.
Making sure staff do not feel isolated.
Our in-house IT and Technology solutions can provide all the necessary team collaboration tools and video to ensure people feel connected
Ensuring home networks are secure and not vulnerable to attacks.
Our in-house IT experts will ensure that all the necessary and appropriate anti-virus software is installed as part of our Home Worker Package.
Making sure all home set-ups are display screen equipment (DSE) compliant.
We employ highly qualified DSE Assessors and offer either in-person assessments, video assessments at home or online assessments.
Supporting clear boundaries between work and personal life.
We help employers to ensure that remote workers get dedicated downtime and advise avoiding excessive communications outside working hours.
Maximise your ROI – click here to collaborate with Commercial and boost your profits.
Request a call
Contact us today
What others say about us…
We're all about delivering value to our clients. Here's what some of them say about the experience of working together.
ITV's army of homeworking staff are able to work comfortably from home thanks to the expertise of the Commercial interiors team. What started as an emergency roll-out during Covid has now developed into a well-oiled machine for the delivery of quality, comfortable furniture and accessories to our team of nearly 600 homeworkers. The Commercial team have worked with ITV to identify items based on approved budgets and a simple order process that ensures weekly order processing and a 5-7 day delivery time.
Proven benefits that help support your team.
Our proven expertise and collaborative approach mean that, whatever the scale or sector of your business, we will work with you and your individual team members to create a positive home-working experience for all your employees.
Here are just some of the benefits.
In-house IT support
Qualified DSE Assessors
UK wide delivery capabilities
Sourcing furniture from more than 50 manufacturers
Fully certified furniture recycling service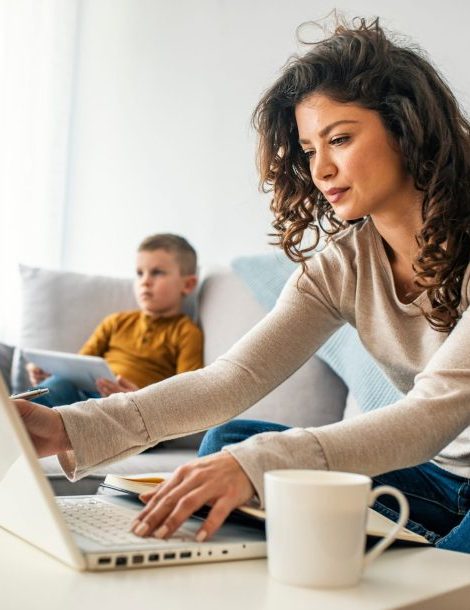 Flexibility will be a key theme as generational shifts see this become even more of a priority for the workforce. This, combined with advances in technology, will ensure that together we can embrace the future of work.
Developments and innovations that could have an impact on how we work with our clients include a four-day working week, developing processes for monitoring employee output and standards, without infringing on privacy or personal freedoms, or the societal shifts that will result from an increase in home working.
Commercial is your smart choice
Commercial specialises in crafting efficient homeworker workspaces that seamlessly integrate technology and communication solutions, providing an all-inclusive answer to your remote work requirements.
But that's just the beginning; delve further to explore the extra advantages of opting for our remote workspace solutions.
Taking a brief
Understanding what's needed from your home-working environments and agreeing objectives from the outset helps to ensure success.
Individual assessments
Each employee will have different requirements. Our experts take great care to make sure individuals' needs are considered.
Ongoing monitoring
We're on hand to offer ongoing advice that goes beyond the set-up phase. When circumstances change or new tech is available, we are quick to advise.



Our reputation is built upon the great work delivered by our teams for our brilliant partners and clients.
Here's what they say.
The Tesco procurement team have been delighted with the way Commercial share our desire to entrench sustainability into our supply chain – we really are kindred spirits. Our ethical and sustainability policies are of paramount importance to our reputation and the Commercial team reviewed and approved all products in a short timeframe. Commercial are already committed to the ETI base code and are working on achieving EcoVadis accreditation for all suppliers on the Tesco account.
The new Walsall Housing Group office is a fantastic, fresh and modern workplace thanks to the wonderful work of the Commercial interiors team. They created a steering group to work alongside us to understand our demands and held regular meetings during the design process to keep us informed of the progress. Our desire was for a more collaborative space, with meeting booths and one-to-one seating, rather than traditional desks – and they delivered a fantastic final fit-out over the full four-floor building.
Each year, Commercial supplies accessory packs to graduate trainees at a leading accountancy firm, which are then picked, packed, and delivered to their home addresses by the Commercial Foundation. This not only guarantees that every new employee has the necessary equipment to be productive from their first day but also allows their IT team to focus on other responsibilities. Collaborating with the Commercial Foundation generates substantial social value returns on investment for the firm and contributes to improving the lives of the Foundation's volunteers.
Wollens have enjoyed a long-standing and fruitful partnership with Commercial because they are always introducing innovations and improvements to our IT environment. As the threat of cyber-attacks increases it was vital that we strengthened our capabilities for dealing with a ransomware attack with a cloud-based backup solution. Our solution means data cannot be altered or deleted, giving us a crucial way of recovering data to minimise any potential downtime and financial losses
Working with Commercial for our branded materials has proved to be effective and collaborative. The team is efficient and they listen to requests for improvements. Commercial has made branded goods simple.
As E-commerce in retail continues to grow, Commercial's stock-management and fulfilment expertise has allowed a leading UK retailer to free huge amounts of warehouse space. Commercial took on the stocking of our employee uniform, transferring to a new supplier with the management of the supply being consolidated into their existing supply accounts. Not only did this free vital space in their distribution centre, the consolidated supply of all GNFR delivered significant delivery cost savings.
At JoJo Maman Bébé we are happy to work with the Commercial Foundation and support inspiring work they do to help disadvantaged young adults. Like us, the Foundation are a B Corp certified organisation that is proven to put purpose ahead of profits. We have enjoyed working with their volunteers to help with a mug-making activity. We are now working alongside them to create an introduction gift for our new employees, these include printed mugs, pens and notebooks.
Click now to gain a fresh perspective on your business strategies with Commercial's expert guidance.
Request a call
Contact us today
Frequently Asked Questions
Welcome to our Home Working FAQ section, your go-to resource for navigating the challenges and maximising the benefits of remote work. Whether you're a remote team co-ordinator, a member of a team, or an individual seeking to optimise your home office setup, you'll find answers to your questions and practical insights here. Ready to enhance your home working experience? Contact us for personalised advice and support tailored to your unique needs. Contact Us to Elevate Your Home Working Experience
How important are ergonomics in a home office workspace?
Ergonomics are important in any workspace, but even more so in a home office workspace. The correct ergonomics can help to reduce fatigue, improve productivity, and prevent long-term health issues. This can be achieved through the correct placement of the desk, chair, monitor, and other tools.
What kind of furniture is best for a home office workspace?
Furniture that is comfortable, adjustable and supportive is best. A comfortable office chair with adjustable height and arms is essential. A desk with enough space to accommodate a computer and any necessary paperwork is also important.
What is important when making sure people can focus in a home workspace?
Removing distractions, setting achievable goals, and taking regular breaks throughout the day can all improve focus. It is also important to establish a routine and stick to it.
What are some tips for staying healthy while working in a home office workspace?
Taking regular breaks, getting up and stretching regularly, drinking plenty of water, and eating healthy snacks. It is also important to make sure the workspace is ergonomically correct to avoid any long-term health issues.
What are some tips for staying productive in a home office workspace?
Staying productive in a home office workspace can be achieved by setting achievable goals, breaking down tasks into smaller chunks, and taking regular breaks throughout the day. It is also important to eliminate any potential distractions and to create an area that is comfortable and organised.
What is the best light for a home office workspace?
Natural lighting is best for a home office workspace. Natural lighting is not only energy efficient, but it also helps to reduce eye strain and improve productivity. If natural lighting is not available, high-quality artificial lighting should be used, such as adjustable desk lamps.
What can be done to create comfortable home workspaces?
Adding personal touches such as photographs or art, plants, and even playing some background music can all help. It is also important to make sure the workspace is clean and organized, as this can improve productivity.
What should employees do is they feel overwhelmed while working at home?
If people find themselves feeling overwhelmed while working in their home office workspace, it is important to take a break and step away for a few minutes. Taking a short walk, listening to music, or doing some stretching can help to clear your head and relieve stress.
What are some tips for setting boundaries between work and home life?
Setting boundaries between work and home life can be achieved by creating a designated workspace, setting work hours, and taking breaks throughout the day to relax and unwind. It is also important to set boundaries with family and friends, and make sure to take time to do activities that are enjoyable.
EXPLORE OUR SERVICES
Other areas of interest
We offer more than just software support: our specialists are here to maximise the potential of your business, enhance efficiency, and create a smarter, safer business environment for you.

Workspace Consultancy    
Elevate your business interiors with strategic workspace consultancy. maximise space utilisation, improve ergonomics, and create a workplace that fosters creativity and efficiency.

Design
Elevate your business interiors through strategic design. Craft spaces that align with your brand, optimise workflow, and foster a positive and engaging work atmosphere.

Furniture
Create exceptional business interiors with our stylish furniture solutions. Elevate your workspace with quality pieces that combine aesthetics, functionality, and comfort.
At Commercial, customer safety and data security are paramount.
That's why we utilise one-time passwords (OTP) to verify email addresses and ensure a secure user experience.
When communicating with us via our website,  you'll receive a unique OTP via email, which acts as a temporary code to confirm your identity.
This additional layer of authentication safeguards against unauthorised access and protects your personal information from potential threats. By implementing OTP verification, we maintain the highest standards of confidentiality, providing our valued customers with peace of mind and a safe environment for their online interactions.
Your trust is our priority, and we are committed to upholding the utmost security measures to protect your data at every step.
Send our Business Interiors team a message