Print solutions that help keep your business moving
Our expert teams will help you manage, source and supply the highest quality operational print.
Print preferred
When it comes to official correspondence, 79% of business professionals choose printed letterheads.
Consumer connection
Consumers feel a stronger connection to a company when they receive printed materials, such as letterheads and business cards.
More memorable
People are more likely to remember a business after receiving a printed business card compared to a digital one.
Brand recognition
Customised packaging can increase brand recognition and customer loyalty by up to 30%.
OPERATIONAL PRINT
The power of print
From letterheads to mailing labels, business cards to packaging materials, print can play an important role in your business operations day-to-day. This often means creating large volumes of printed material, but sometimes the choice of print supplier, technology and materials can be overwhelming. We provide an extensive range of services for businesses who rely on print as a vital component of their operations.
Our long-standing relationships with the best-in-class UK and global printers means you will be in safe hands to help deliver these high volumes while not sacrificing on quality. Not only will your business be represented in the best way possible, our sustainable and ethical approach will make sure you are playing a role in reducing your carbon footprint and helping to protect the planet.
Experience and expertise that supports problem solving
As consultants, we are ideally placed to be able help you not only identify potential challenges, but help you overcome them. We will work with you to make sure you're aware of any potential pain points and help to problem solve.
Here are some of the more common challenges we're presented with.

The right provider
We'll make sure your needs are met by finding the best print supplier.
Different print options
Help to understand what processes are available.
Cost management
Ensuring quality, turnaround time and cost are all balanced.
Changing technology
Helping you understand industry changes to achieve the best results.
Sustainability
Making sure your print needs are met while mitigating any environmental impact.
You're just a click away from Commercial's expert print managers.
Got a question?
Send us a message
Insights that benefit your business
As an ever-evolving industry, staying one step ahead of any changes in operational print will mean that you can remain competitive. Thanks to our extensive support, any print you produce will be eye-catching as well as functional, and delivered on time in the most cost effective and sustainable way possible.
The increase in demand for digital printing has been driven by a requirement for greater customisation as well as a move to more online printing solutions. Being able to adapt to changes, with our help, will mean your business is in the strongest position.
Here are some of the key areas that are likely to have an impact.
Digital transformation
As this technology is becoming more advanced, affordable and versatile, demand has increased. Offering faster turnaround, greater cost efficiency and customisation, it's a fast-growing area.
Sustainability
The need for businesses to demonstrate their environmental credentials has seen more recycled materials and biodegradable inks being used, alongside bids to reduce waste.
Automation
Automation helps streamline production, reduce errors and improve efficiency. While AI-powered solutions provide data insights that help businesses make better decisions and optimise operations.
E-commerce integration
The integration of e-commerce into operations helps to streamline ordering and delivery for customers. This in turn provides greater convenience and flexibility for clients.
Hybrid print solutions
Using both digital and traditional print methods can help to reduce costs and increase the range of products that can be produced.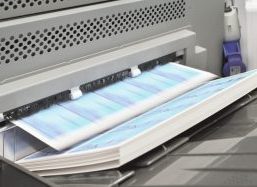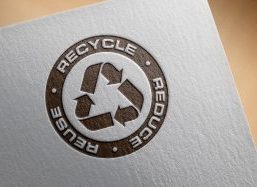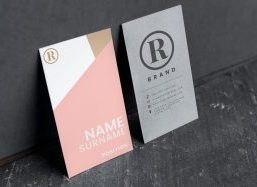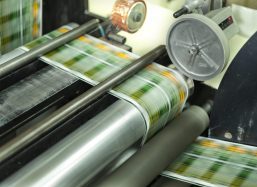 Don't just take
our word for it…
Commercial deliver. We are fortunate to work with some amazing partners. Here are some examples of great things we hear every day.
The industry expertise of the Commercial Print team has led to PHS avoiding significant print cost rises, saving us as much as £6,500 in 2022 alone. Even after six years together, the team are always striving to make continuous improvements, ensuring we have immediate access to all business-critical lines with free next day delivery. And with some product created in-house by the wonderful Commercial Foundation we are able to create significant social value returns from our print orders.
Experienced print partnerships
There are a number of benefits you will see from working with our expert print managers.
Our bespoke approach to all your operational print needs sets us apart. We provide robust and varied options including variable data printing, quick turnaround times, high-quality litho printing, digital and web offset printing with unique and unlimited finishing options.
Print quality is our highest priority. Our network of print partners all work within stringent quality control parameters which means all printed materials meet exceptionally high standards across the board.
Our aim is to help you reduce waste and carbon emissions which in turn will help you meet your sustainability goals. Whether that's through the print materials we use, using recycled products or biodegradable inks.
No matter your budget, we'll provide a solution that helps save cost by taking advantage of economies of scale and streamlined production processes.
The knowledge and support we provide comes from years of working in operational print. Our teams all have extensive experience from which you can benefit.
Helping you to stand out from the crowd
We're passionate about adding value to all our client relationships. This goes beyond the partnership and service we provide and extends into the social, ethical and sustainable aspects of the business, with the aim of improving the lives of those in our communities.
Commercial Foundation
A social enterprise that supports disadvantaged young people, the Commercial Foundation runs 12-week No Limits workshop programmes. This gives participants the tools they need to help find work or access education. 
A full digital print facility is also part of our social enterprise, giving young adults an opportunity to gain valuable work experience and from where clients can purchase a wide range of print and merchandise items from our Community interest company. This sees profits reinvested to further support those involved in the No Limits workshops.
Commercial Foundation Fulfilment
An added value benefit for our clients, the Foundation can hold and consolidate multiple product lines to create new location set up packs, PPE hampers and new starter welcome packs.
Carbon reporting
Implementing consolidation wherever possible helps to save cost and reduce carbon emissions. While clients can place orders frequently, scheduled deliveries are released on a set day each week to reduce carbon impact. Using Microsoft Power BI also allows us to track emissions by post code, order value and the number of deliveries.
Don't navigate the business world alone – click to partner with Commercial and achieve your goals.
Request a call
Contact us today



Don't just take
our word for it…
Commercial deliver. We are fortunate to work with some amazing partners. Here are some examples of great things we hear every day.
The GNFR expertise and product knowledge of the Commercial team have helped transform both the quality and reliability of American Golf's operational print. Previously we had suffered from stock shortages and a lack of innovation on our product lines, now the Commercial team have delivered on time and to high quality across all SKUs.Their depth of print knowledge has achieved best costs while their planning and forecasting expertise and proactive account management has ensured continuity of supply in busy periods.
The Tesco procurement team have been delighted with the way Commercial share our desire to entrench sustainability into our supply chain – we really are kindred spirits. Our ethical and sustainability policies are of paramount importance to our reputation and the Commercial team reviewed and approved all products in a short timeframe. Commercial are already committed to the ETI base code and are working on achieving EcoVadis accreditation for all suppliers on the Tesco account.
The new Walsall Housing Group office is a fantastic, fresh and modern workplace thanks to the wonderful work of the Commercial interiors team. They created a steering group to work alongside us to understand our demands and held regular meetings during the design process to keep us informed of the progress. Our desire was for a more collaborative space, with meeting booths and one-to-one seating, rather than traditional desks – and they delivered a fantastic final fit-out over the full four-floor building.
Each year, Commercial supplies accessory packs to graduate trainees at a leading accountancy firm, which are then picked, packed, and delivered to their home addresses by the Commercial Foundation. This not only guarantees that every new employee has the necessary equipment to be productive from their first day but also allows their IT team to focus on other responsibilities. Collaborating with the Commercial Foundation generates substantial social value returns on investment for the firm and contributes to improving the lives of the Foundation's volunteers.
Wollens have enjoyed a long-standing and fruitful partnership with Commercial because they are always introducing innovations and improvements to our IT environment. As the threat of cyber-attacks increases it was vital that we strengthened our capabilities for dealing with a ransomware attack with a cloud-based backup solution. Our solution means data cannot be altered or deleted, giving us a crucial way of recovering data to minimise any potential downtime and financial losses
Working with Commercial for our branded materials has proved to be effective and collaborative. The team is efficient and they listen to requests for improvements. Commercial has made branded goods simple.
As E-commerce in retail continues to grow, Commercial's stock-management and fulfilment expertise has allowed a leading UK retailer to free huge amounts of warehouse space. Commercial took on the stocking of our employee uniform, transferring to a new supplier with the management of the supply being consolidated into their existing supply accounts. Not only did this free vital space in their distribution centre, the consolidated supply of all GNFR delivered significant delivery cost savings.
At JoJo Maman Bébé we are happy to work with the Commercial Foundation and support inspiring work they do to help disadvantaged young adults. Like us, the Foundation are a B Corp certified organisation that is proven to put purpose ahead of profits. We have enjoyed working with their volunteers to help with a mug-making activity. We are now working alongside them to create an introduction gift for our new employees, these include printed mugs, pens and notebooks.
Frequently Asked Questions
Here are some of the more common questions about operational print that you may find helpful.
What is print management?
Managing the printing needs of businesses, including operational print. Providing services such as project management, cost-effective printing solutions, and quality control.
What services do you provide?
Project management, cost-effective printing solutions, quality control, and order fulfilment. We also provide consultation and assistance in selecting the best material and equipment for a job.
What types of operational print can you provide?
A wide variety of items including invoices, statements, NCR pads and forms , labels, and more.
What materials are used for operational print?
These can include paper, cardstock, vinyl, canvas, and other specialty materials.
What is the turnaround time for operational print projects?
This can vary based on the complexity of the project and the material used.
What is the cost of operational print?
The cost of operational print varies depending on the complexity of the project and the material used. Once we have a full brief of your requirements, we can provide a detailed quote.
What is the quality of the printing?
The quality of the printing is dependent on the material used, the printing process, and the skill of the printer. We help to ensure high-quality printing by selecting the best material and equipment.
What is the best way to ensure a successful operational print project?
Working with a qualified print professional who can provide consultation and assistance in selecting the best material and technology.
What is the best way to keep costs down when ordering operational print?
Selecting the right material and equipment and working with an expert print team that can provide cost-effective printing solutions.
What type of operational print is most cost-effective?
The most cost-effective type of marketing print is digital printing, as it is faster and less wasteful than other printing processes.
EXPLORE OUR SERVICES
Other areas of interest
Explore a world beyond Branded Clothing with us – discover Branded Merchandise, experience impeccable Catering, embrace eco-friendly Cleaning Products, delve into insightful Client Analytics, enjoy personalised Client Experience, and adorn yourself with cutting-edge Clothing designs.

Web2Print
Take your business printing to the next level with our Web2Print services. Streamline your print workflow, save time and resources, and ensure consistent brand quality.

Branded Merchandise
Promote your business with our diverse range of branded merchandise. From promotional items to corporate gifts, we help you leave a lasting impression on clients and customers.

Inventory Management
Maximise efficiency with our comprehensive business inventory management solutions. Gain real-time visibility, optimise stock levels, and streamline your supply chain for increased profitability.