Putting your best foot forward
Reducing injury risk with the right protective footwear.
Around 8.7 million people in the UK wear safety footwear at work
Incorrect footwear caused 5,555 reported workplace injuries
Injuries to feet and toes account for around 16% of major workplace injuries
Three in four injuries to feet and toes could be prevented with safety footwear
SAFETY FOOTWEAR
Selecting the correct footwear protects people and performance.
When it comes to choosing safety footwear to protect against a wide variety of workplace risks and injuries, it's not a case of one size fits all. Our experts use their extensive industry knowledge to understand the range of specifications and styles needed to protect every foot on the ground.
Ensuring employees are equipped with compliant and practical footwear reduces risk for all, but being comfortable and durable means they can focus on the job in hand, improving productivity and performance.
OVERCOMING YOUR CHALLENGES
We'll help you find the right fit
The range of safety footwear options can seem unlimited and trying to satisfy the needs of all wearers in your business can be challenging.
Our safety footwear experts will work with you to assess the levels of protection required throughout the workplace, ensuring every shoe fits.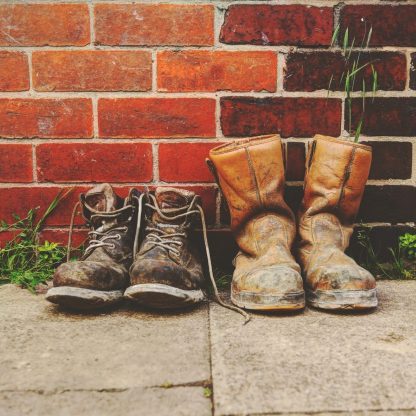 Choice
It can be difficult to find a supplier with a range of choice that conforms to the relevant safety standards. Commercial's experts use their industry knowledge to make this easier.
Style and substance
As an experienced partner, Commercial will select footwear that is fit for every purpose, meeting requirements for comfort and function, as well as style.
Stock availability
By taking time to understand the needs of your business, we'll make sure that the right safety footwear is always available for every job, often next working day.
Competitive pricing
It's not just about whether the shoe fits, we'll offer solutions that are the right fit for your budget too.
Added value
Not all partners offer the same service. Our team provides additional value with foot measuring and scanning, and items for greater comfort such as inserts and socks.
Elevate your business with Commercial's expert advice – click here to get started.
Request a call
Contact us today
Don't just take
our word for it…
Commercial deliver. We are fortunate to work with some amazing partners. Here are some examples of great things we hear every day.
Commercial delivered an innovative solution for safety footwear provision at a leading high street retailer, creating much-needed warehouse space and consolidating deliveries. Before partnering with Commercial, the retailer stored and delivered PPE from their main distribution depot, occupying space required for their growing home delivery business. Commercial took over PPE storage and stocking, enabling stores to order alongside regular business supplies and leading to reduced delivery costs.
INNOVATIONS IN FOOTWEAR SUSTAINABILITY
Improving sustainability from the feet on the ground
The greater use of recycled materials in safety footwear is continuing to improve, meaning we can help our customers to make choices that can even support the environmental credentials of their business. Innovation means that safety footwear can now include sustainable materials.
Recycled metal
Metal such as steel and aluminium can be recycled to create the hardware for safety shoes, such as eyelets and rivets. Sources include scrap metal and discarded appliances.
Repurposed plastic
Plastic can be repurposed to create safety footwear that is lightweight, flexible, and waterproof. Sources include discarded plastic containers, packaging, and other plastic saved from landfill.
Recycled rubber
Recycled rubber can be used to create the soles of safety shoes, providing good traction and durability. Sources include recycled car tyres and other rubber products.
Recycled fabric
Recycled fabric can be used to create the upper of the shoe, providing breathability and comfort. Sources include recycled clothing and fabrics.
Recycled foam
Foam can be recycled from old mattresses and furniture to create the inner cushioning of safety shoes.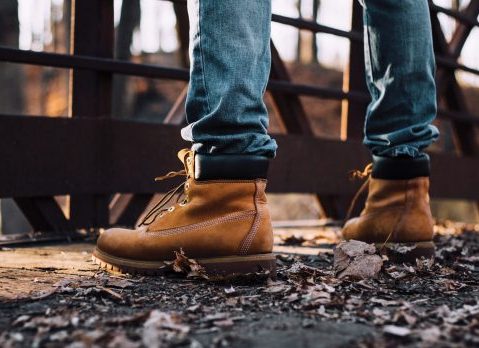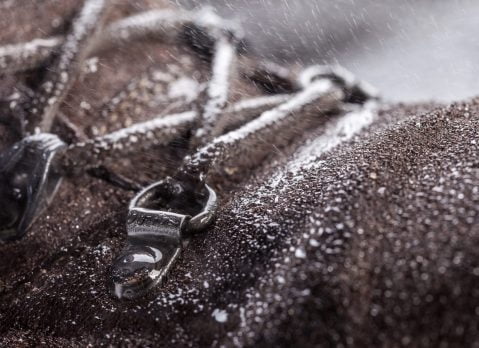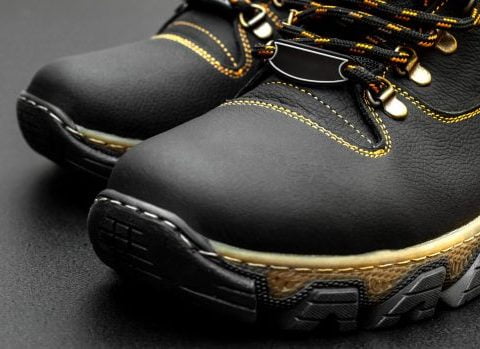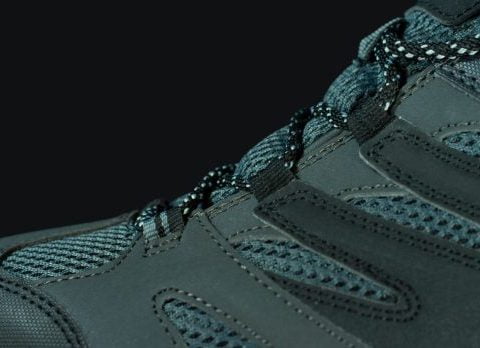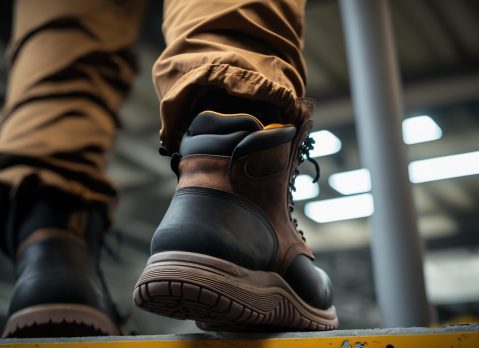 A good fit for
your whole business

Working closely with the industry's leading manufacturers to understand the broad spectrum of safety footwear on the market, means we'll always be able to recommend the best products to suit the needs of our customers.
But we pride ourselves on taking the time to understand how the solutions we provide will fit with your broader business goals, from improving performance to achieving greater sustainability.
We believe in a holistic approach to safety footwear that considers not only the immediate protection it provides but also its impact on your organisation's overall effectiveness and long-term vision. By aligning our recommendations with your broader business goals, we ensure that the solutions we provide contribute to the bigger picture, making your operations safer, more efficient, and more sustainable.
In essence, our expertise doesn't stop at safety footwear; it extends to a deep understanding of your industry, your unique needs, and your aspirations. By leveraging our partnerships with top manufacturers and aligning our recommendations with your broader business objectives, we provide a comprehensive solution that goes beyond safety – it becomes an integral part of your journey towards a more successful, efficient, and sustainable future.

Performance and productivity
We will ensure you can meet stringent health & safety requirements while keeping people comfortable so they can focus on the job in hand.

Ethical and sustainable
We'll help you literally walk the talk with ethical and sustainable goals embedded in the very soles of your workforce's shoes.
Here are some the key reasons our customers choose Commercial to fulfil their footwear needs.
We'll work closely with you to understand the needs of your workforce and your business. This means we'll have done the research to make recommendations that won't overwhelm you with choice, and get the right fit, first time.
In getting to know your business and your workforce, we provide safety footwear that is suited to the tasks of the wearer but ensure their comfort too.
We'll provide support on site with foot scanning services to ensure the right fit, every time.
Sustainability is a growing concern for every business and at Commercial it's built into everything we do
That's why we work with manufacturers at the forefront of sustainable safety footwear development, so we can support our customers to make choices that will reduce their impact on the environment.
Always curious
Our team has a thirst for innovation, examining what's new and evaluating what will add value to our clients. We're all about anticipating your changing needs and offering solutions.
Ethical supply chain
Commercial is a member of the Ethical Trade Initiative, and ranked in the world's top 5% of businesses for its ethical supply chain by EcoVadis.
Carbon footprinting
We can compute your carbon footprint, get it verified, and start you off on a journey to carbon reduction with confidence.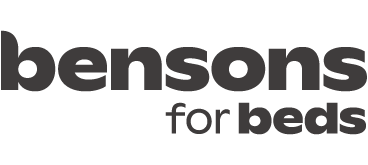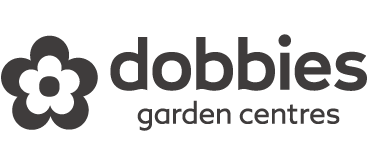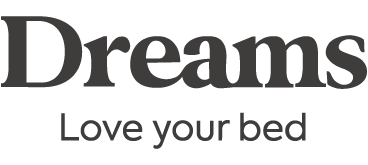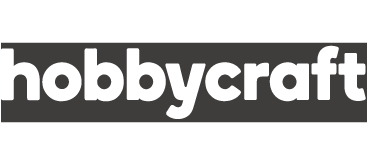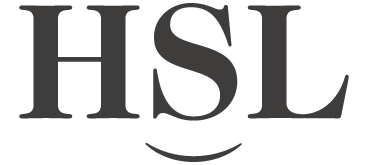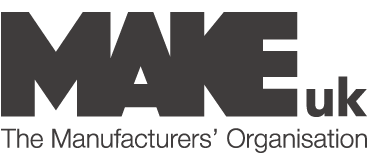 Don't just take
our word for it…
Commercial deliver. We are fortunate to work with some amazing partners. Here are some examples of great things we hear every day.
Commercial have never missed a step in ensuring that Mott MacDonald's staff have safe, reliable, comfortable and compliant footwear. When we switched to Commercial in 2022, we were aware that production problems were looming for our preferred options, but Commercial's team of procurement experts immediately took away any worries Their experts sourced and provided an alternative option that provided the same safety certification and protection, ensuring there was no breakdown in supply
The Tesco procurement team have been delighted with the way Commercial share our desire to entrench sustainability into our supply chain – we really are kindred spirits. Our ethical and sustainability policies are of paramount importance to our reputation and the Commercial team reviewed and approved all products in a short timeframe. Commercial are already committed to the ETI base code and are working on achieving EcoVadis accreditation for all suppliers on the Tesco account.
The new Walsall Housing Group office is a fantastic, fresh and modern workplace thanks to the wonderful work of the Commercial interiors team. They created a steering group to work alongside us to understand our demands and held regular meetings during the design process to keep us informed of the progress. Our desire was for a more collaborative space, with meeting booths and one-to-one seating, rather than traditional desks – and they delivered a fantastic final fit-out over the full four-floor building.
Each year, Commercial supplies accessory packs to graduate trainees at a leading accountancy firm, which are then picked, packed, and delivered to their home addresses by the Commercial Foundation. This not only guarantees that every new employee has the necessary equipment to be productive from their first day but also allows their IT team to focus on other responsibilities. Collaborating with the Commercial Foundation generates substantial social value returns on investment for the firm and contributes to improving the lives of the Foundation's volunteers.
Wollens have enjoyed a long-standing and fruitful partnership with Commercial because they are always introducing innovations and improvements to our IT environment. As the threat of cyber-attacks increases it was vital that we strengthened our capabilities for dealing with a ransomware attack with a cloud-based backup solution. Our solution means data cannot be altered or deleted, giving us a crucial way of recovering data to minimise any potential downtime and financial losses
Working with Commercial for our branded materials has proved to be effective and collaborative. The team is efficient and they listen to requests for improvements. Commercial has made branded goods simple.
As E-commerce in retail continues to grow, Commercial's stock-management and fulfilment expertise has allowed a leading UK retailer to free huge amounts of warehouse space. Commercial took on the stocking of our employee uniform, transferring to a new supplier with the management of the supply being consolidated into their existing supply accounts. Not only did this free vital space in their distribution centre, the consolidated supply of all GNFR delivered significant delivery cost savings.
At JoJo Maman Bébé we are happy to work with the Commercial Foundation and support inspiring work they do to help disadvantaged young adults. Like us, the Foundation are a B Corp certified organisation that is proven to put purpose ahead of profits. We have enjoyed working with their volunteers to help with a mug-making activity. We are now working alongside them to create an introduction gift for our new employees, these include printed mugs, pens and notebooks.
Want to stay ahead of the curve? Click now for Commercial's expert advice.
Request a call
Contact us today
Frequently Asked Questions
Our team is ready to answer any questions you may have about sourcing safety footwear. These are a few common queries you may find helpful.
What types of PPE footwear do you offer?
We offer a wide range of PPE footwear, including steel-toe boots, safety shoes, slip-resistant shoes, and more.
Do you offer custom PPE footwear solutions?
Yes, we offer custom PPE footwear tailored to meet specific customer needs. Please contact our team to discuss your requirements.
How long will it take to receive my order?
Typically shoes are available next working day. More bespoke orders take 1-2 weeks to process and ship.
How much does shipping cost?
Shipping costs depend on the size and weight of your order and the destination. Please contact us for a detailed estimate.
Do you offer any warranties on your PPE footwear products?
Yes, we offer a one-year warranty on all PPE footwear products.
What safety standards does your PPE footwear meet?
Our PPE footwear meets the highest safety standards, including those set by the Occupational Safety and Health Administration (OSHA).
What materials do you use for PPE footwear?
We use a variety of materials for PPE footwear, including leather, synthetic leather, rubber, and recycled materials.
Do you offer discounts on large quantity orders?
Yes, we can offer discounts on bulk orders. Please contact our team for more information.
Do you offer returns or exchanges?
Yes, we offer 30-day returns or exchanges on all PPE footwear items.
Are your PPE footwear products tested for durability?
Yes, our PPE footwear products are tested to ensure they meet the highest standards for durability and performance.
EXPLORE OUR SERVICES
Other areas of interest
Our specialists are dedicated to elevating not just your comfort but also your business's potential. We're here to stride alongside you, enhancing efficiency and creating a smarter, safer business environment where you can confidently move forward.

Clothing
Dress for success with our stylish business clothing. From professional attire to corporate uniforms, we offer high-quality garments that exude confidence and professionalism.

High Visibility
Enhance workplace safety with our high-visibility PPE solutions. Our range includes reflective vests, helmets, and accessories to keep you visible and protected in any industry.

PPE
Stay protected with our comprehensive range of PPE. We provide the essential equipment and gear you need to minimise risks and maintain a safe work environment.
At Commercial, customer safety and data security are paramount.
That's why we utilise one-time passwords (OTP) to verify email addresses and ensure a secure user experience.
When communicating with us via our website,  you'll receive a unique OTP via email, which acts as a temporary code to confirm your identity.
This additional layer of authentication safeguards against unauthorised access and protects your personal information from potential threats. By implementing OTP verification, we maintain the highest standards of confidentiality, providing our valued customers with peace of mind and a safe environment for their online interactions.
Your trust is our priority, and we are committed to upholding the utmost security measures to protect your data at every step.
Send our PPE and Workwear team a message