Fully furnished interior solutions
Workspace furniture specialists with an extensive portfolio collated to meet the needs of every aspiration and budget.
Market growth
The uk office furniture market is expected to grow at an average annual rate of 3.1% during 2021-2026.
Market size
The UK's office furniture market is poised to register a CAGR of more than 6.5% during the 2023-2028 forecast period.
Modern take
According to a survey conducted in 2020, 80% of uk office workers prefer to work in an office with modern furniture.
Economic drivers
It is estimated that 30% of the UK's furniture manufacturing turnover is attributable to the office and contract sub-sectors.
BUSINESS FURNITURE
Furniture solutions for the modern workplace
Our team of business interior specialists will handle all your workspace furniture requirements, spanning office, healthcare, educational and hospitality workplace environments. With a wealth of experience and partnerships with more than 50 leading brands in workspace furniture sector, we are well placed to meet any brief, sourcing the right furniture and overseeing the process from sourcing and logistics to change management to installation.

Trusted partnerships
By partnering with more than 50 leading UK and international workspace furniture brands, we have access to a large furniture portfolio that meets every client's aspirations and budget.
Furniture to transform, inspire and change the way we work.
We regularly invite our valued clients to tour around our furniture partners' showrooms to help spark ideas and create destination locations individual to each client.

Expert guidance
Our experts help clients to select furniture items that encourage engagement, inspire collaboration and improve the health and wellbeing of staff.
Overcoming your challenges
Tangible workplace benefits
Whatever the size or sector of your organisation, we have the skills, team and experience to provide the advice and support you need. We know how important it is that the working environment supports productivity and creativity, so we'll work hand in hand with you and your team to select the furniture that will get the most out of your employees. 
Here are five common challenges clients encounter when choosing the right furniture and the ways in which we offer solutions and support:
Space transformation
We understand the desire to transform a workspace, but we also recognise this needs to be in line with agreed costs. With many companies adopting a hybrid way of working, we are looking at the workplace in a different light. We help clients choose furniture products to create spaces that stand out and encourage people to come back to the office more often at the same time as coming in on budget.
Future proofing
Investing in furniture that stands the test of time is an important consideration, as is choosing furniture that will continue to be available should a client needs to add to their existing selection. Rest assured we carry out detailed checks before bringing our furniture partners onboard to ensure continuity of supply.
Deadline dates
We have an enviable track record in the industry when it comes to delivering on-time and on-budget. Our team of furniture experts work alongside our logistics team to ensure that all furniture deliveries and installation are scheduled to meet client's required timescales.
Sustainable surplus
With hybrid ways of working now the new normal we understand there's a need to revaluate the workspace and remove any surplus furniture in a sustainable way to free up space. Our business interiors team offer a fully certified recycling service to our clients across the UK collecting items from you and taking them to Sustain, our recycling partner plant.
Fit for purpose
Our team of experts carry out stringent checks of our manufacturing partners. This is a crucial part of the work we do and ensures that their furniture adheres to the latest business standards. They must also adhere to the requirements set out by Eco Vadis, the world's and most trusted provider of business sustainability ratings.
Take charge of your business's future – click now to optimise your strategies with Commercial.
Request a call
Contact us today
Don't just take
our word for it…
Commercial deliver. We are fortunate to work with some amazing partners. Here are some examples of great things we hear every day.
Commercial provided USAY Compare a with a turnkey solution when we needed to expand our existing offices and take over a building next door to our existing headquarters. We needed to be able to move in and be ready to work from day one and they delivered, designing, remodelling, fitting-out and furnishing the new building on time and to budget. During the work they kept us in the loop for every decision and provided a brilliant time-lapse video of the work being done to show progress as it was happening. Mairi Claire Gornall Business Operations Manager
Product Portfolio
Our extensive partnerships in the UK, Europe and globally, provudes access to a large furniture portfolio that meets every client's aspirations and budget.
Social value
By working with Commercial's interiors specialists, every client will be making a positive social impact. For every £1 of income generated, Commercial creates £1.85 of social value. 
Joined-up support
Partnering with Commercial to source your furniture means we can introduce you to a multitude of additional complementary business services from IT, smart technology, MPS, office supplies and print.
Technology
As part of the team at Commercial, we have experts on-hand who can integrate the latest technology into both fixed and mobile furniture items, ensuring everything works seamlessly together.
Carbon footprint
We provide a carbon footprint calculation for all furniture products used on projects, ensuring your furniture has come from the most sustainable and ethical sources. Our data tracks from raw material through the manufacturing process and then to client-specific site installation.
Furniture recycling service
Commercial offers a fully certificated recycling of furniture service via their 'Sustain' partnership. All furniture no longer required is collected and returned to a recycling centre in Accrington. The client is then provided with full certification per item recycled.
Power in partnerships
One of the real benefits of working with Commercial for your furniture requirements, is the breadth and depth of experience we can bring and the strong partnerships we have nurtured over the years. These include the following:

Orangebox
Viewed as one of the most innovative and knowledgeable organisations when it comes to future proofing workplaces. Orangebox invest heavily in extensive market research to substantiate all their claims and regularly produce industry leading insights around the future look and feel of the commercial office sector.

Eco Vadis
Commercial first joined Eco Vadis, the world's largest and most trusted independent provider of business sustainability ratings, as a customer in 2016. In 2020, we became a listed supplier and were assessed for our work, actions and results across four areas of sustainability: environment, labour and human rights, ethics and sustainable recruitment. We currently hold gold status and are working towards platinum.

Senator
In partnership with Senator, we offer a fully certified furniture recycling service to all our clients throughout the UK through the 'Sustain' scheme. All furniture not required is collected from a client's location returned to a recycling centre in Accrington and recycled in an environmentally friendly way. The client is then provided with full certification per item recycled.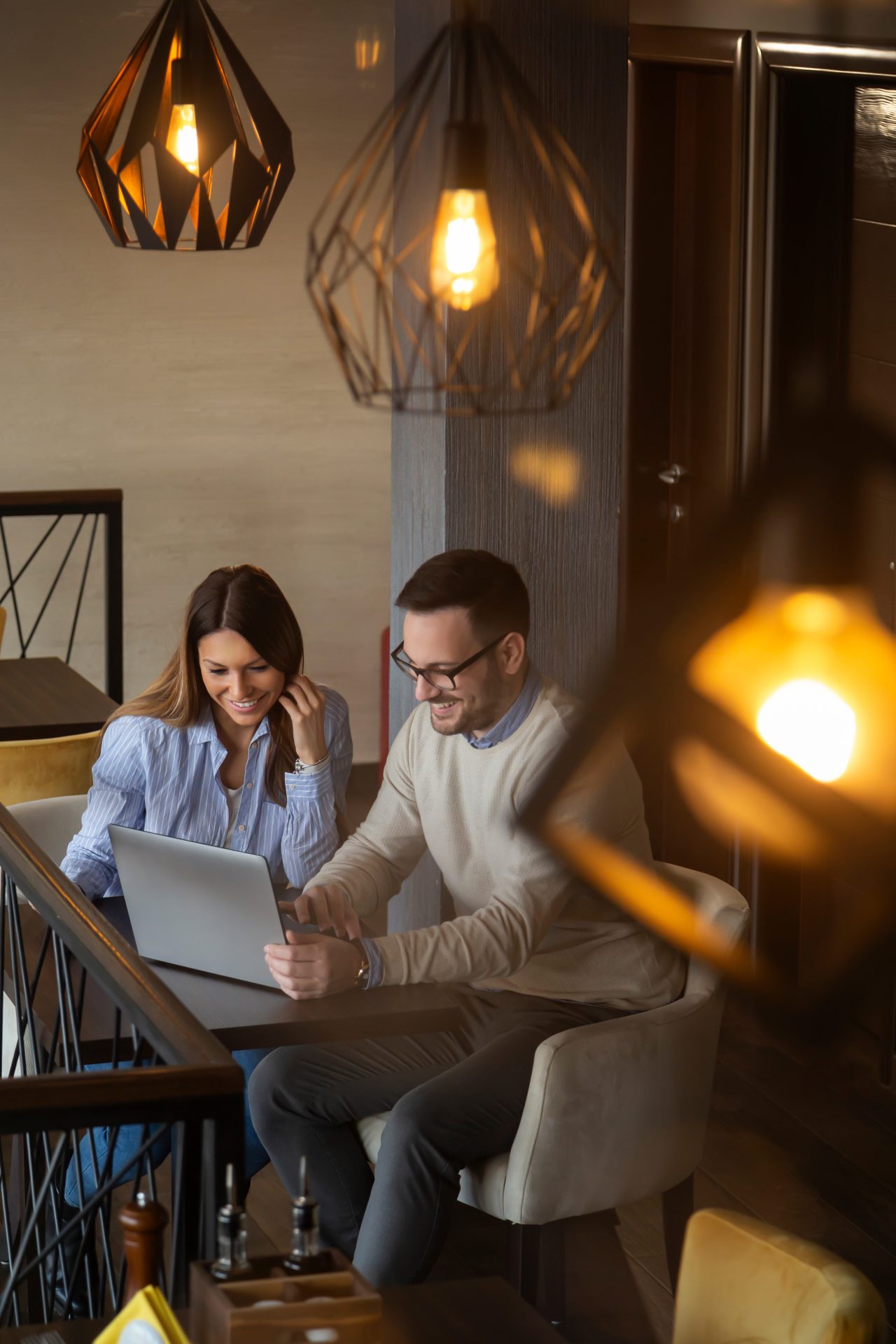 We keep pace with the latest industry trends.
This helps us to anticipate factors that might influence our work now and in the future. Here's a look at some areas that are set to impact both the workplace and the furniture industry.
Sustainable flexible spaces
Currently the focus for the market is on providing furniture that helps make the workplace a more sustainable, flexible and collaborative space that caters to the needs of today's increasingly hybrid workforce.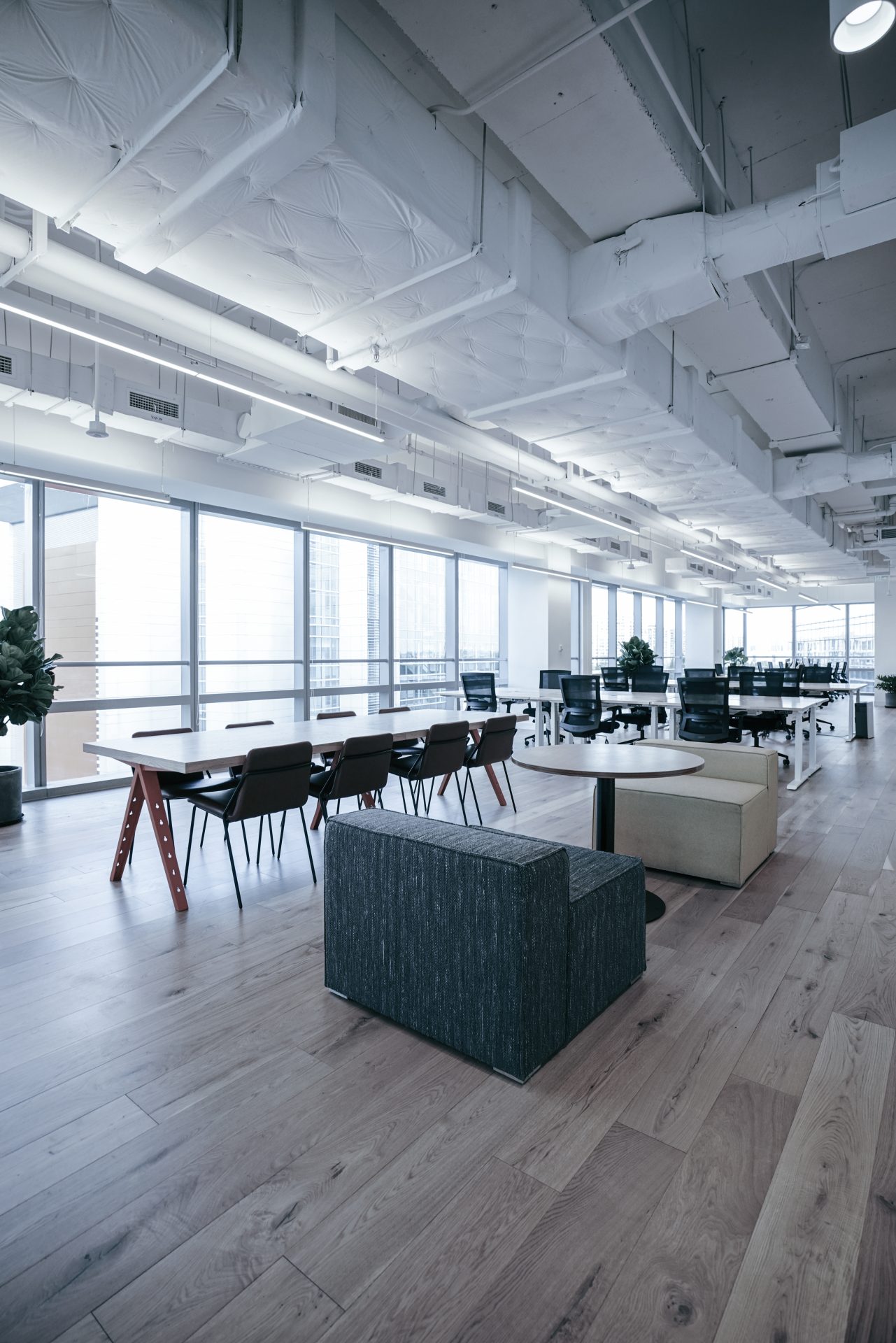 According to the latest Mordor Intelligence industry report the number of flex office spaces in the United Kingdom is witnessing constant growth. These offices are promoting collaborative work and adaptability and are increasingly ordering more adjustable furniture. Office products more suitable for these areas are developing, such as moveable, high-backed chairs, height-adjustable desks, and sit-and-stand workstations.
Innovation at every turn
NeoCon is the hub for the commercial design community. The annual event has been running since 1969. In 2022 it predicted the following trends for commercial furniture in the next 5 years:
Micro spaces
Flexible furniture
Resimercial Inspiration
Bold colours
Accoustic materials
Touch down spaces
Retro influence
Commercial is your smart choice
Commercial provides a single source solution for all your furniture requirements.  Reason enough to choose us, but read on for more.
Workspace review
Understanding what's needed for your workspace environment and your stakeholders and agreeing objectives from the outset helps to ensure success.
Collaboration
Sourcing the right furniture from our trusted partners and overseeing the process from sourcing and logistics to change management to installation.
Future proofing
Asking questions of key stakeholders to ensures that any changes are future proofed for the next five years.



Don't just take
our word for it…
Commercial deliver. We are fortunate to work with some amazing partners. Here are some examples of great things we hear every day.
Commercial's interiors team designed the reception and first floor office layout and fitted-out the additional meeting rooms at ProCook's new headquarters, providing an inspirational space for our workforce. From the moment they came on board, they helped simplify what was becoming a complex process, working out any minor kinks in the architectural drawings before work commenced. They have continued to help us with fantastic aftercare since the project was completed. Sarah Thorn, executive assistant to founder and CEO, ProCook
Commercial turned the vision for Jasis' expanded offices into a reality, taking care of every last detail – even arranging for the recycling of some unwanted furniture. Having refurbished our Camden offices in 2020, when we bought the adjacent building, it was the obvious choice to work with Commercial on the expansion. They designed, planned, refurbished and redecorated the new site, to time and budget providing us with a fresh, modern and vibrant space fit for our exciting future. Ima Lusher and Office Manager
We wanted an environment that would be inspiring and functional for our existing staff and welcoming for new talent within the industry. Commercial help design a space that not only looked on brand, but flowed in our space, incorporating the latest technology and sustainable touches, doing it on time and to budget.
The Tesco procurement team have been delighted with the way Commercial share our desire to entrench sustainability into our supply chain – we really are kindred spirits. Our ethical and sustainability policies are of paramount importance to our reputation and the Commercial team reviewed and approved all products in a short timeframe. Commercial are already committed to the ETI base code and are working on achieving EcoVadis accreditation for all suppliers on the Tesco account.
The new Walsall Housing Group office is a fantastic, fresh and modern workplace thanks to the wonderful work of the Commercial interiors team. They created a steering group to work alongside us to understand our demands and held regular meetings during the design process to keep us informed of the progress. Our desire was for a more collaborative space, with meeting booths and one-to-one seating, rather than traditional desks – and they delivered a fantastic final fit-out over the full four-floor building.
Each year, Commercial supplies accessory packs to graduate trainees at a leading accountancy firm, which are then picked, packed, and delivered to their home addresses by the Commercial Foundation. This not only guarantees that every new employee has the necessary equipment to be productive from their first day but also allows their IT team to focus on other responsibilities. Collaborating with the Commercial Foundation generates substantial social value returns on investment for the firm and contributes to improving the lives of the Foundation's volunteers.
Wollens have enjoyed a long-standing and fruitful partnership with Commercial because they are always introducing innovations and improvements to our IT environment. As the threat of cyber-attacks increases it was vital that we strengthened our capabilities for dealing with a ransomware attack with a cloud-based backup solution. Our solution means data cannot be altered or deleted, giving us a crucial way of recovering data to minimise any potential downtime and financial losses
Working with Commercial for our branded materials has proved to be effective and collaborative. The team is efficient and they listen to requests for improvements. Commercial has made branded goods simple.
As E-commerce in retail continues to grow, Commercial's stock-management and fulfilment expertise has allowed a leading UK retailer to free huge amounts of warehouse space. Commercial took on the stocking of our employee uniform, transferring to a new supplier with the management of the supply being consolidated into their existing supply accounts. Not only did this free vital space in their distribution centre, the consolidated supply of all GNFR delivered significant delivery cost savings.
At JoJo Maman Bébé we are happy to work with the Commercial Foundation and support inspiring work they do to help disadvantaged young adults. Like us, the Foundation are a B Corp certified organisation that is proven to put purpose ahead of profits. We have enjoyed working with their volunteers to help with a mug-making activity. We are now working alongside them to create an introduction gift for our new employees, these include printed mugs, pens and notebooks.
Click here to discover Commercial's partnership opportunities and open doors to success.
Request a call
Contact us today
Frequently Asked Questions
Welcome to our Business Interiors Furniture FAQ section, where we're here to provide you with comprehensive information and solutions for all your furniture-related needs in the business environment. Whether you're a procurement manager, an office planner, or someone looking to optimise your workspace's furniture choices, you'll find valuable insights, expert recommendations, and practical tips here to help you select the right furniture for your specific needs. If you have questions that aren't answered here, why not drop us a line and we will do all we can to help?
What is the importance of ergonomic furniture in the modern workplace?
Ergonomic furniture is important in the modern workplace as it helps to reduce physical strain on the body, improve posture, and increase comfort and productivity.
What types of furniture are available for the modern workplace?
Common furniture options for the modern workplace include desks, chairs, tables, cubicles, filing cabinets, shelves, and storage solutions.
What are the benefits of investing in quality furniture in the modern workplace?
Investing in quality furniture for the modern workplace can help to create a comfortable and productive workspace, reduce physical strain on the body, and improve overall productivity.
What are the benefits of using modular furniture in the modern workplace?
Modular furniture has many benefits in the modern workplace, such as flexibility, cost-effectiveness, and ease of installation.
What types of lighting solutions are available for the modern workplace?
Common types of lighting solutions for the modern workplace include task lighting, ambient lighting, and natural lighting.
How can business interiors furniture improve workplace organisation?
Business interiors furniture can help to improve workplace organisation by providing adequate space for storage, creating a visually appealing workspace, and providing users with the necessary tools to work efficiently.
What factors should be taken into consideration when choosing furniture for the modern workplace?
When choosing furniture for the modern workplace, factors to consider include ergonomics, aesthetics, budget, size, and functionality.
How can business interiors furniture help to create a professional atmosphere in the modern workplace?
Business interiors furniture can help to create a professional atmosphere in the modern workplace by providing quality and stylish pieces that are appropriate for the business environment.
How can business interiors furniture help to improve collaboration in the modern workplace?
Business interiors furniture can help to improve collaboration in the modern workplace by providing comfortable seating and meeting areas, as well as providing tools and equipment that facilitate collaboration
How can business interiors furniture help to promote a healthy work environment?
Business interiors furniture can help to promote a healthy work environment by providing ergonomic solutions, reducing physical strain on the body, and providing a visually appealing workspace.
EXPLORE OUR SERVICES
Other areas of interest
We offer more than just software support: our specialists are here to maximise the potential of your business, enhance efficiency, and create a smarter, safer business environment for you.

Design
Evolve your business interiors with innovative design solutions. Harness the potential of aesthetics, functionality, and ergonomics to create a remarkable workplace environment.

Move Management
Experience a stress-free office move with our comprehensive move management services. We handle logistics, coordination, and timelines, so you can focus on your core business.

Fit Out
Elevate your business interiors with our comprehensive  fit-out expertise. Craft tailored spaces that align with your vision, promote collaboration, and inspire success.
At Commercial, customer safety and data security are paramount.
That's why we utilise one-time passwords (OTP) to verify email addresses and ensure a secure user experience.
When communicating with us via our website,  you'll receive a unique OTP via email, which acts as a temporary code to confirm your identity.
This additional layer of authentication safeguards against unauthorised access and protects your personal information from potential threats. By implementing OTP verification, we maintain the highest standards of confidentiality, providing our valued customers with peace of mind and a safe environment for their online interactions.
Your trust is our priority, and we are committed to upholding the utmost security measures to protect your data at every step.
Send our Business Interiors team a message