Designing workspaces as people places
Creating spaces for productive and purposeful work that will help transform your business.
Feeling valued
97% of survey respondents stated that they regard their workplace as a symbol of whether or not they are valued by their employer.
Positive first impressions
76% of millennials, aged 18-34, say that office design and aesthetic influences their impression of a company.
Drop in depression
Adding plants to the office caused a 37% fall in reported tension and anxiety; and a 58% drop in depression or dejection; a 44% decrease in anger and hostility; and a 38% reduction in fatigue.
Decrease in absenteeism
Research by the University of Exeter found that good office design can lead to a 16% increase in productivity and a 32% decrease in absenteeism.
OFFICE DESIGN
Setting a stage to inspire your team.
An office space is more than just bricks and mortar, it should reflect your culture and be a place staff can thrive and enjoy being in. Our collaborative approach means that we design spaces that best reflect what your team needs. This allows people to perform at their peak in an environment that suits them best.
A detailed briefing process gives us an in-depth understanding of what's required. Working with you and key stakeholders, we bring the design to life.

Working together
Client input, buy-in and collaboration is paramount. This must come from the leadership team and wider colleagues to help create spaces that serve the needs of the whole workforce.
Interior design that resonates with your business or brand.
Understanding people and how they interact and respond to their surroundings is fundamental to our design approach.

More than just an office
We help to showcase your brand and culture and foster collaborative and inspirational working practices that ensure employees are happy and motivated to achieve their best.
Problem-solving design solutions
Every office space is different. We understand the needs of each client, working with them to envisage a workspace that helps improve employee engagement and productivity.
From using data to inform design, to incorporating an agile working model and installing acoustic solutions, we create spaces that better support your people.
Here are four of the most common issues we hear from clients and how we solve them.
We're not making the most efficient use of space.
Using our Space Utilisation data means we can respond directly to your needs, helping reduce under-utilised and wasted space.
We have lots of noisy, open plan spaces.
Using adjacency planning and acoustic solutions, we plan a layout that puts certain teams together based on how they work.
We need more quiet areas needed for focused work.
We design dedicated Sanctuary and Wellbeing environments that create a balanced, inclusive workspace that meet a variety of needs.
Our space doesn't reflect our company culture.
Our office design puts values at its core. Integrating your Brand Identity into the design solution creates environments that inspire and feel welcoming.
Don't wait for success – click now to work with Commercial and thrive in your industry.
Request a call
Contact us today
Don't just take
our word for it…
Commercial deliver. We are fortunate to work with some amazing partners. Here are some examples of great things we hear every day.
It was a pleasure working with Commercial to help create a vision of turning two office floors into one inspiring, collaborative space for our hybrid workers within budget and on time. The final layout flowed superbly, using high-quality finishes, and incorporating the latest technology with sustainability at forefront of mind.
More than just aesthetics
No matter the scale or sector of your business, our design solutions perfectly balance the needs of your people with the brand and culture of your business.
We design spaces that allow your teams to think better, work better and live better.
We help to nurture the purpose and culture of your organisation through innovative design.
Our Wellbeing Code looks at eight areas where sustainability can be used for maximum value.
Sustainability considerations which are embedded at the design stage to maximise value around eight beneficial elements:
Innovation
Designs underpinned by an innovation–oriented mindset to drive change.
Materials
We source healthy, sustainable, certified, and eco–friendly materials.
Furniture
Circular furniture selection emphasising ergonomic benefits for body and mind.
Comfort
Create comfortable, distraction–free indoor spaces that inspire.
Air
Optimal indoor air quality to support the health and wellbeing of the occupants.
Light
Include circadian–friendly lights to boost productivity and visual acuity.
Water
Clean water, including quality treatment and promotion of hydration.
Nature
Greenery and nature improve wellbeing and support an active lifestyle.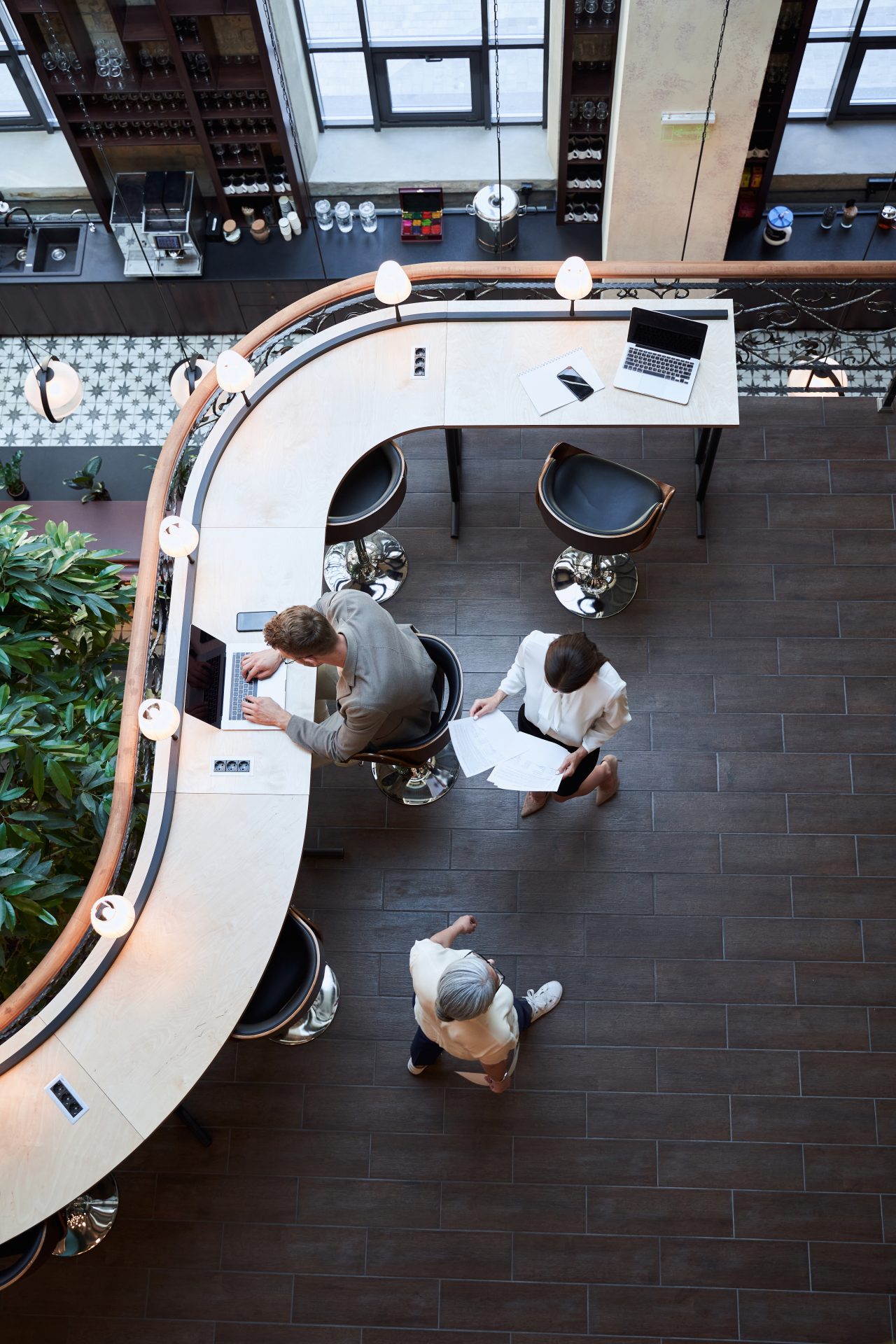 Innovative and exciting design
How do we create environments that respond to the changing needs of both your employees and customers?
There's a shift towards more co-working memberships and shared office spaces, and flexible design is key to accommodating different organisations under one roof. Carefully designed acoustics are essential too, suited to different activities; some for quiet concentration, others for teamwork and lively discussion.
The trend towards flexibility follows through into furnishings too, with modular furniture which can be easily moved to reconfigure spaces.
Great workspace designs integrate technology and nature.
Connected Technology
Allowing environmental factors to be controlled in one place based on needs and occupancy levels.
Biophilic design
Bringing the outside in and incorporating nature into workspaces.
Commercial is your smart choice
Commercial excels in designing workspaces that harmonise technology and communication, delivering a holistic solution for your workplace needs.
Yet, there's more to our expertise; continue reading to discover the additional benefits of choosing our workspace solutions.
Understanding employee needs
Taking a detailed brief and involving stakeholders to begin a thorough workplace analysis.
2D floor plan
Also called a general arrangement plan, this allows us to agree on layout and functionality of the space.
3D Visuals
Helping to bring the design to life, at this point we look at precedents and create mood boards to finalise your agreed, bespoke office interior.



Don't just take
our word for it…
Commercial deliver. We are fortunate to work with some amazing partners. Here are some examples of great things we hear every day.
The Tesco procurement team have been delighted with the way Commercial share our desire to entrench sustainability into our supply chain – we really are kindred spirits. Our ethical and sustainability policies are of paramount importance to our reputation and the Commercial team reviewed and approved all products in a short timeframe. Commercial are already committed to the ETI base code and are working on achieving EcoVadis accreditation for all suppliers on the Tesco account.
The new Walsall Housing Group office is a fantastic, fresh and modern workplace thanks to the wonderful work of the Commercial interiors team. They created a steering group to work alongside us to understand our demands and held regular meetings during the design process to keep us informed of the progress. Our desire was for a more collaborative space, with meeting booths and one-to-one seating, rather than traditional desks – and they delivered a fantastic final fit-out over the full four-floor building.
Each year, Commercial supplies accessory packs to graduate trainees at a leading accountancy firm, which are then picked, packed, and delivered to their home addresses by the Commercial Foundation. This not only guarantees that every new employee has the necessary equipment to be productive from their first day but also allows their IT team to focus on other responsibilities. Collaborating with the Commercial Foundation generates substantial social value returns on investment for the firm and contributes to improving the lives of the Foundation's volunteers.
Wollens have enjoyed a long-standing and fruitful partnership with Commercial because they are always introducing innovations and improvements to our IT environment. As the threat of cyber-attacks increases it was vital that we strengthened our capabilities for dealing with a ransomware attack with a cloud-based backup solution. Our solution means data cannot be altered or deleted, giving us a crucial way of recovering data to minimise any potential downtime and financial losses
Working with Commercial for our branded materials has proved to be effective and collaborative. The team is efficient and they listen to requests for improvements. Commercial has made branded goods simple.
As E-commerce in retail continues to grow, Commercial's stock-management and fulfilment expertise has allowed a leading UK retailer to free huge amounts of warehouse space. Commercial took on the stocking of our employee uniform, transferring to a new supplier with the management of the supply being consolidated into their existing supply accounts. Not only did this free vital space in their distribution centre, the consolidated supply of all GNFR delivered significant delivery cost savings.
At JoJo Maman Bébé we are happy to work with the Commercial Foundation and support inspiring work they do to help disadvantaged young adults. Like us, the Foundation are a B Corp certified organisation that is proven to put purpose ahead of profits. We have enjoyed working with their volunteers to help with a mug-making activity. We are now working alongside them to create an introduction gift for our new employees, these include printed mugs, pens and notebooks.
Boost your bottom line – click here to partner with Commercial and achieve sustainable profits.
Request a call
Contact us today
Frequently Asked Questions
Welcome to our Office Design FAQ section, your ultimate resource for all things related to creating inspiring and functional office spaces. Whether you're an office manager, an interior designer, or simply looking to enhance your workplace environment, you'll discover valuable insights, creative ideas, and expert guidance here to help you transform your office into a productive and inviting space. Let's explore the world of office design and make your workspace a hub of creativity and efficiency.
What are the benefits of business interiors design services?
Specialist design services can help maximise workspace efficiency, create a more comfortable and productive environment, and enhance the overall aesthetics of a business space.
What are the different types of design services available?
Design services can include interior design, lighting design, acoustics, furniture selection, space planning, construction management and more.
What are the costs associated with design services?
Design services can vary in cost depending on the scope of the project, materials used, and other factors. We'll discuss your budget and business priorities right from the start.
How can design services help to improve a business's brand image?
Design services can help create an environment that reflects a business's brand image and values. This can include selecting the right furniture, colours, and decor to create a space that is inviting and aesthetically pleasing.
How often should a business update its interior design?
It is recommended that businesses update their interior design every few years to keep up with changing trends and ensure that their space is still functioning optimally.
How do design services help increase productivity?
Design services can help create a workspace that is tailored to the specific needs of a business. This can include maximising the use of space and organising it in a way that encourages collaboration and productivity.
What is the process of working with a design service?
Commercial's design service begins with a consultation with our expert team to discuss the client's needs and ideas. From there, we will create a plan and help coordinate the implementation of the design.
How long does it take to design a business interior space?
The time frame for designing a business interior space can vary depending on the complexity of the project. Generally, a design can take anywhere from several weeks to several months to complete.
What are the advantages of using an experienced design service?
Working with Commercial's experienced design team provides valuable insight into the design process and ensures that the final design meets the needs of the business. Through our trusted partnerships, we provide access to a wide range of quality resources and materials to deliver the most successful project.
What type of design services are best suited for a modern workplace?
Design services that focus on ergonomics, technology integration, and flexibility are well-suited for modern workplaces. This can include designing workspaces that are comfortable, efficient, and conducive to collaboration.
EXPLORE OUR SERVICES
Other areas of interest
We offer more than just software support: our specialists are here to maximise the potential of your business, enhance efficiency, and create a smarter, safer business environment for you.

Workspace Consultancy
Maximise your business interiors with expert workspace consultancy. Transform your workspace for enhanced productivity, employee satisfaction, and overall business success.

Fit Out
Achieve outstanding fit-out solutions for your business interiors. Transform spaces with precision, functionality, and style to create an environment that reflects your brand.

Home Workers
Empower home workers with professional business interiors. Create functional and inspiring remote workspaces to promote focus, well-being, and success.
At Commercial, customer safety and data security are paramount.
That's why we utilise one-time passwords (OTP) to verify email addresses and ensure a secure user experience.
When communicating with us via our website,  you'll receive a unique OTP via email, which acts as a temporary code to confirm your identity.
This additional layer of authentication safeguards against unauthorised access and protects your personal information from potential threats. By implementing OTP verification, we maintain the highest standards of confidentiality, providing our valued customers with peace of mind and a safe environment for their online interactions.
Your trust is our priority, and we are committed to upholding the utmost security measures to protect your data at every step.
Send our Business Interiors team a message